Town & Country Connection
Being almost a full month into 2020, we want to share our focus with you in T&C's first newsletter of the year. Let's face it – insurance can be boring, and has a "negative" connotation associated with it. You're paying for something you hope you never have to use. It seems quite contrary to the majority of purchases, doesn't it.
However, having proper insurance coverage is the difference between rebuilding your home after a fire, or not.
It's the financial stability after a car accident, when the bills start rolling in.
It's knowing you can (more easily) afford that cancer treatment.
It is the peace of mind knowing your family will be financially taken care of after you pass.
So, our goal for 2020 is to bring value to you regarding your insurance coverage. Instead of insurance being "just another expense," we want to teach you various aspects of insurance coverage, so that you have the tools you need to make the best decisions for your unique situation. We want to provide you with enough options on protection and value, so that you can choose a level of coverage you desire. We want to share our personal experiences and knowledge, so that you can feel assured we have your best interest in mind.
Our goal for 2020 is to protect you and your assets to the best of our ability, by providing you with the education, options

and

assurance

you need to do so.
Cheers to a great start to 2020, and be sure to look for our next newsletter in your mailbox!
---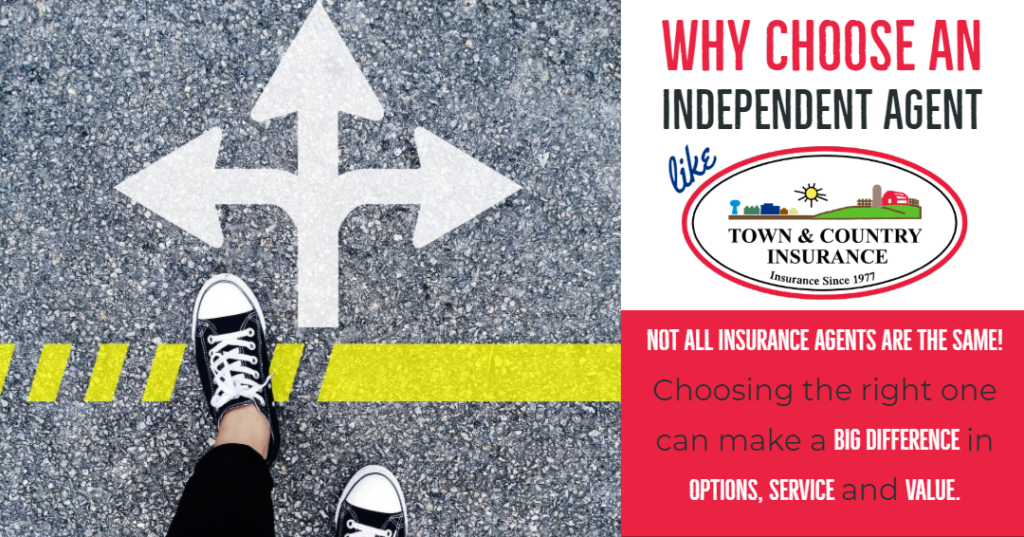 Why Choose An Independent Agent?
Not all insurance agents are the same! Choosing the right one can make a big difference – in options, value and service. Find out what sets us apart from other agents in the area, as well as those online companies.
Hint: Consider whether most "online only" options will truly have your back when you have a claim. Is saving $15 really going to matter at that time?
---
Homemade Granola
This recipe came from Judy in our Finlayson office, and it was passed down from her mother. Perfect as a cereal, to add in parfaits, or just a healthy snack! 
¾ c. honey (local is best!)
½ c. oil
1 tsp. vanilla
1/2c. sesame seed
1 c. wheat germ
2 c. coconut
7 c. oatmeal
You can add raisins, nuts or cinnamon to taste!
Bring honey and oil to boil and then remove from heat.  Add in vanilla and then all dry ingredients.  Mix together and place in cake pan uncovered in oven at 300 to 325 degrees for 20 minutes.
Enjoy, and thank you Judy for sharing your family's recipe with us!  If YOU have a recipe you'd like us to feature in an upcoming newsletter, submit it here!
---
Winter Is Not Over… 
Here in Minnesota, we know winter lasts well into March. Our Finlayson office marked the last "big snow" at April 25th in 2019! Ugh! So while these tips may seem late being shared in our Jan 2020 newsletter, there's still plenty of time this winter to take proactive steps and reduce the potential hassles that the next snow storm will (inevitably) cause.
---

Team T&C
We had a couple of work anniversaries in January! Liz Kelly, our resident Marketer, celebrated her 3rd year with us! Barb Rabe also celebrated her 5th year! Barb has actually been specializing in health and Medicare plans since 1996, and is a great resource!
This February, Lisa Koski celebrates her 17th anniversary! Lisa keeps us progressive in the technology department, while creating and implementing systems to protect us internally. Outside of her "operations" role, she's a GREAT competitor and we are all hoping she'll be on our team in our upcoming wellness challenge! #guaranteedwin
---
Community Connections
What is going on in your community? Here are a few things in the upcoming weeks that we have our eye on!
Finlayson & surrounding areas:
2/8 – Ice Bocce Tournament hosted by the Moose Lake Area Chamber of Commerce
3/21 – St. Urho's Day sponsored by the Finlayson-Giese Lions Club
Hinckley & surrounding areas:
Mora & surrounding areas:
2/1 – Girl Scout cookie sales start!
2/1 – Cystic Fibrosis Fundraiser at the Grand Event Center
2/6-2/9 Vasaloppet weekend: 2/6 Craft Beverage Tasting, 2/8 Vasaloppet Race, 2/9 Skijoring, Spark races, Fat Tire bike race & Miniloppet
2/15 – Adult Prom at the Grand Event Center, supporting B.A.D.G.E.S.
2/15 & 16 – Fish Lake Annual Ice Fishing Contest
3/7 – MDHA, Snake River Chapter – 30th Annual Banquet at Grand Event Center
3/28 – Showstopper – a Murder Mystery Dinner presented by the Mora Area Chamber of Commerce
Another great resource is our local Community Education opportunities at East Central, Willow River Area, Hinckley-Finlayson, and Mora School Districts and the Chambers of Commerce sites listed below:
---
That's a wrap… Our final three wheel spins for 2019!
Our final three spins for 2019 were held at our Employee Meeting in January. Ironically, the winning organization for each spin was nominated by someone from the office spinning wheel!  Stay tuned for a few changes to our program in 2020 in our February newsletter.
Enjoy the videos below and be sure to watch through the end for the bloopers!
Congrats to these organizations! Follow their links to find out more about how you can help support their causes in the community!
B.A.D.G.E.S. $415
Finlayson Elementary Hardship Fund $500
Soup For The Soul $500
---
Contributions from the Town & Country Insurance Newsletter Committee:  April, Gabe and Christy
---
Know someone who would like to see our newsletter? Share it with them and they can subscribe.