Mission Statement
Town & Country Insurance strives to provide the best possible insurance solutions for its clients. With an educated and knowledgeable team, we bring the clients needs and the insurance company's solutions together providing quality coverage at a reasonable price. By maintaining a high level of integrity in all its dealings, Town & Country Insurance is respected by its customers, employees and companies.
---
Our Commitment To You
As an insured of Town & Country Insurance, you have access to a variety of important benefits from any of our licensed agents, at any of our locations. These benefits include:
Town & Country Insurance represents many top-rated insurance companies, providing you with the benefit of our search for the best coverage and value for your needs.
Our agents offer an annual review of your insurance policies to discuss coverages, possible changes needed and available discounts.
We'll answer your insurance questions as quickly as possible.
We pride ourselves in the knowledge of the insurance contract, and we will assist you with any claims.
Upon your request, we will assist you in the development of a personal property inventory, which, in the event of a property loss, serves as a reminder of what you owned and eases the claims process.
We use today's technology to maintain records and document the history of your account, giving you the benefit of timely access to your insurance information.
Our agents are encouraged to earn insurance designations (CIC, CISR, and others) which serve as commitments to continuous enhancement of our knowledge and service to you.
We function as a team. If your agent is unavailable, there will always be another agent to help you.
We are your neighbors & we live in and support our local communities with our time and talents.
Town & Country Insurance does not charge fees for new or renewal applications.
Our offices provide free copying, faxing and notary services to our insureds.
---
Our Role in Your Insurance
Insurance is insurance, right? Does it really matter where one goes to purchase it? At Town & Country, we believe it matters a great deal.
Our business is to help you protect what's important  - your homes, autos, businesses, valuables, health and financial security. To provide this protection properly, we need to discuss and review your situation and needs. We take the time to understand what's important to you before we recommend the best combination of coverage, service and value.
Our goal is to serve as a trusted advisor. We can provide information and can educate you on insurance matters. We are available to discuss and update your policies when changes in your life affect your needs and, therefore, your insurance coverage.
---
Common Life Changes That Impact Your Insurance
While they may not all pertain to you, here are just a few common life changes that could impact your insurance needs:
New driver or new vehicle in the family,
Child goes to college or moves out,
Pay off or add to your mortgage,
Build an addition or a new garage,
Buy a boat or other recreational vehicle,
Acquire new jewelry or other valuable,
Change jobs or retire.
As insurance professionals, we know the value of good coverage.
Don't let your insurance policies become outdated!

They should always serve to protect what's important to you.
---
Why do business with Town & Country Insurance?
Unlike a captive, or direct insurance company who only offers their own proprietary products, our agency is 100% independent of any one company. Many insurance consumers don't fully understand just how important that really is.
When it comes to something as important as insurance, it's imperative that you work with an agency who has an in-depth knowledge of multiple insurance products, companies, and guidelines — not just one.
At the end of the day, what separates one agent from another, is their ability to proactively service their policy holders, and their knowledge of the insurance industry, products, and different situations that may present themselves to their clients.
---
Independent Agent Vs. The Rest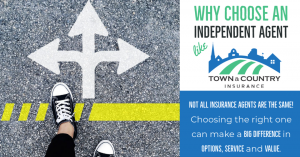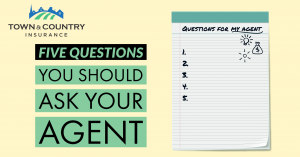 Here is a quick comparison of the differences between an independent agency like us, and the various other types of companies that are out there: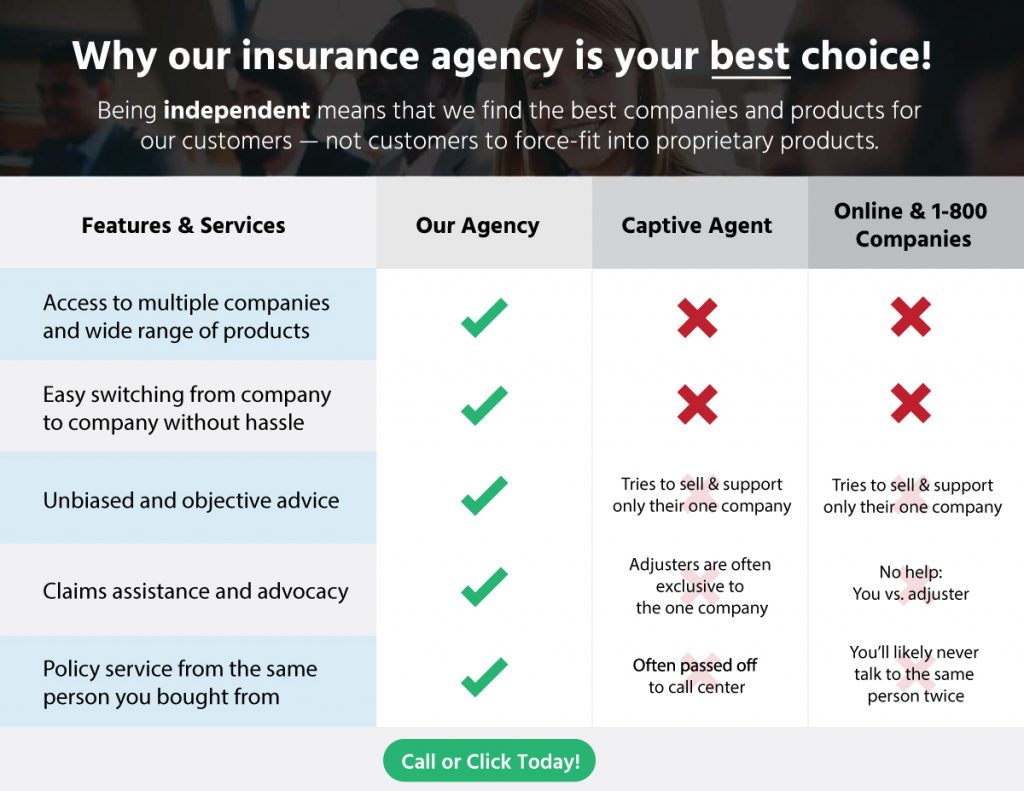 ---
If you'd like to get started with a complimentary policy review, we'd be happy to help you any way we can. Simply complete the fields below to get started online in a matter of seconds.
We appreciate the opportunity to help you, and look forward to servicing your insurance needs! If you have additional questions, feel free to call us directly!