Hands-Free Minnesota! Did You Know?
Minnesota law will require drivers to put down their phones and go hands-free while driving. The state's hands-free cell phone law takes effect August 1 and makes Minnesota the 19th state, along with Washington, D.C., to enact laws regarding hands-free use while driving. We at Town & Country Insurance care about your safety and that of your family. That's why we encourage you to become familiar with this new law now, and begin to adapt your own cell phone use so you're ready to comply! Remember, this new law applies to all drivers over 18, anytime, anywhere!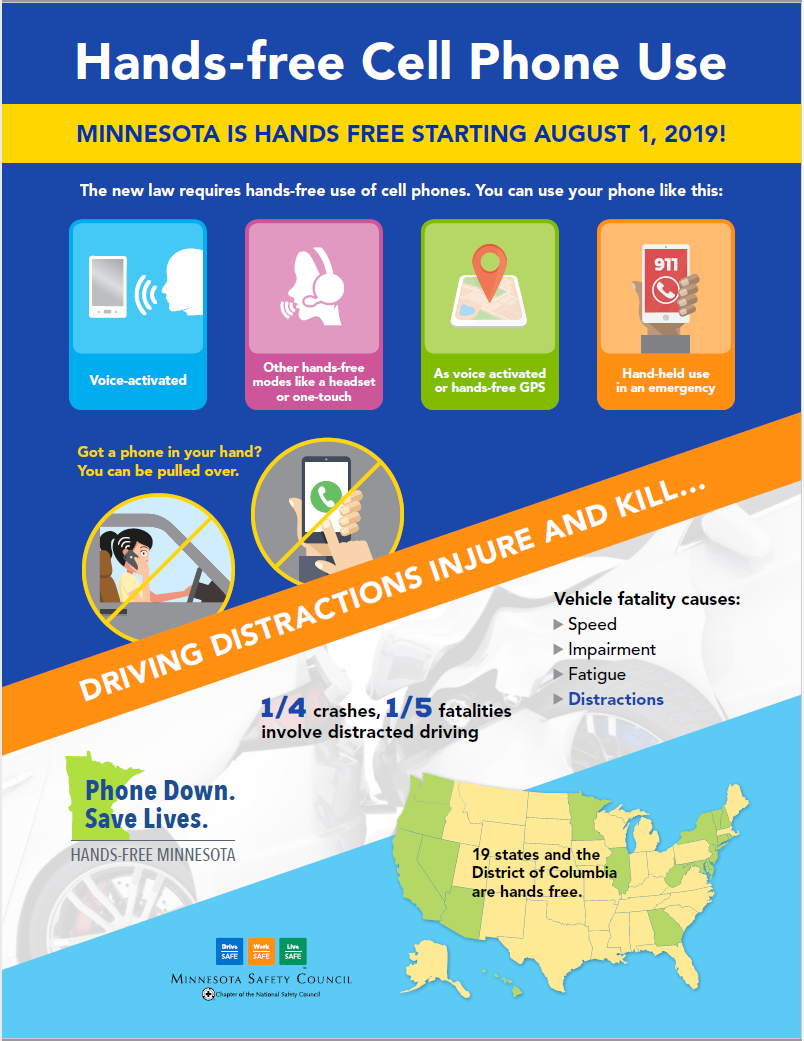 Today distractions, including those involving cell phone use, are responsible for ¼ of crashes and 20% of fatalities. In 12 of 15 states with data on the impact of hands-free laws, traffic fatalities have decreased by an average of 15%! But know – this is NOT a metro-area only issue; 35% of crashes occur in greater Minnesota, and ¾ of these are fatalities.
To help you prepare for the new law, we have composed a few pointers regarding how cell phones can and cannot be used when a vehicle is in traffic. Additional resources are available on Minnesota Safety Council's Hands-Free Resource Page. The MN Department of Public Safety's Hands-Free Page also has a variety of educational tools available for Minnesotan's.
Don't wait for August 1st – start now to make your phone hands-free and help make all of us safer on the roads!
What IS Allowed?
Single-touch activation:  ONE touch to complete your desired transaction (call, text, play, start.)
You CAN touch your phone to wake it, followed by the single-touch activation.
Listening to music and podcasts (in hands-free and voice-activated mode.)
Using your phone as a GPS (in hands-free and voice-activated mode.)
Using headphones, wireless or wired – but only ONE. Airpods – just put one in. Beats, only have one ear connected. Regular headphones: just let one side hang down (give preference to the side with the built-in microphone to keep in your ear.)
Texting (in hands-free or voice-activated mode.) "Hey Siri, send John a text that I am stuck in traffic and running 10 minutes late."
Using your hand-held phone to obtain emergency assistance (calling 9-1-1,) if there is an immediate threat to life and safety, or when in an authorized emergency vehicle while performing official duties.
What IS NOT Allowed?
Holding your phone, typing, or scrolling;

Playing games;

Transactions that require more than one touch;

Composing or READING texts or emails;

Making video calls (FaceTime, Skype, Google Duo, etc.);

Watching videos;

Anything that requires you to hold your phone; or

Using your phone while at a stop light, stop sign, or in traffic, without being hands-free.
At no time may a driver hold the phone in their hand unless it's to obtain emergency assistance.
Tips To Adapt & Comply:
Here are a few tips you can use to comply with the hands-free law, as well as links to various hands-free options & services.
Program your GPS / Maps app with your destination before you drive, so you can just hit the start button when you need to.
Pull up your play list, or music streaming service before you leave your driveway or parking lot, including your vehicle's built-in navigation system.
If you have a newer car – take the steps to integrate your phone with the vehicle's bluetooth system. Ford Sync, Chevrolet, and Mopar UConnect (Dodge, Chrysler, Jeep) are some of the standards.
If you don't have a vehicle with hands-free software, you can always buy a bluetooth adapter, which can plug in with an auxiliary (AUX) cable or even a tape deck.
Get a pair of headphones! Wireless work best in a vehicle – just remember to only have ONE earbud in.
Turn off pop-up notifications while you drive, for apps such as Facebook, Snapchat, Messenger, Email & Text.
Utilize Hey Siri, Alexa or OK Google to for voice commands. Become familiar with your phone's capabilities and what features you can utilize.
Enable your phone's "do not disturb" feature while driving. Apple has this built in, and you can find instructions here.
Get a mount for your cell phone to attach it to the dash, vent or cupholder. But keep in mind it should not obstruct your vision. Or better yet – put your cell phone in your glove box, console, or even your trunk!
There are no changes for drivers under age 18 and with a driver's permit or provisional license – they still cannot make or answer calls while driving (hand-held or hands-free). See DPS's website for more.
We urge you to become familiar and adapt to the new law. In addition to the major safety concern, using your phone can get you violations and cause accidents, which affect your insurance premium. If the safety risk doesn't change your mind, maybe the dollar impact on your insurance will!
Remember, hands-free is still not distraction-free,
it's best to just not use your phone in the vehicle at all.
Data sourced from Minnesota Department of Public Safety and Minnesota Safety Council.