Town & Country Connection
We are excited to share our first monthly e-newsletter with you, the Town & Country Connection! Our newsletter aims to bring valuable info, insurance tips & fun to your day! Thanks for reading, and enjoy.
---
Get Ready for Hands-Free MN!
In just a couple weeks, Minnesota law will require drivers to put down their phones and go hands-free while driving. The state's hands-free cell phone law takes effect August 1 and makes Minnesota the 19th state, along with Washington, D.C., to enact laws regarding hands-free use while driving.
We at Town & Country Insurance care about your safety and that of your family. That's why we encourage you to become familiar with this new law now, and begin to adapt your own cell phone use so you're ready to comply when the time comes! Remember, this new law applies to all drivers over 18, anytime, anywhere!
The new law allows drivers over 18 to use their cell phones to make calls, text, listen to music or podcasts, or get direction – but ONLY by voice-command or single-touch activation, WITHOUT HOLDING THE PHONE.
Don't wait for August 1! Start now to make your phone hands-free and help make all of us safer on the roads!
---
Layered Salad
Nancy submitted this recipe, known as "Layered Salad", which was a hit at a recent graduation party, and found in the local church cookbook. Enjoy!
1 head lettuce
1 head cauliflower
1 lg. red onion
1 lb. bacon
2 c. Hellmann's Mayo*
1/2 c. sugar
3/4 c. parmesan cheese
*MUST be Hellmann's mayo
Layer in order given in a large bowl. Break lettuce into bite-sized pieces; cut cauliflower into thin, vertical slices (it's worth the extra time); chop red onion; fry bacon & crumble into bite-sized pieces. Spread Hellman's on top of the layered ingredients & sprinkle with sugar. Refrigerate overnight, covered. Sprinkle parmesan cheese over the top & mix JUST before serving.
---
Three Team Members Earn CISR
Agents are agents, right? Nope! Continuous education is required to stay ahead of various industry standards, statutes, and regulations.
Because all of us at Town & Country Insurance encourage our agents to continuously further their education, we'd like to highlight a few of our agents who recently received their CISR Designation (Certified Insurance Service Representative).
• Lisa Koski, Operations
• Vicki Marks, Commercial Lines, Hinckley location
• Rhonda Scheffer-Domino, Commercial Lines, Mora location
WHAT DOES HAVING A CISR AS AN AGENT MEAN FOR YOU?
---
Getting The Best Value: Home, Auto, & Business Renewals
Whether you are newly-insured or have been with us for years, we want to share some insight about the renewal process, and how we can help you get the best value.
About 45 days before your policy renews, we reach out via email or post card & offer a "Total Account Review", or TAR. This is your opportunity to review your account with us, to ensure coverages, premiums, changes & discounts are reflected correctly.
If you get this email or post card (yellow, with an umbrella), call / email / text us to schedule a quick review. It takes less than an hour and can be done over the phone or in person – whichever is most convenient.
Most policies renew automatically so any un-reported changes (& applicable discounts) may not be reflected at renewal. This is why it's important to contact us so we can get that updated for you!
It is best to stick with a policy / carrier for a full year. This allows you to establish your insurance history and become eligible for additional savings.
Agents cannot automatically shop your insurance without your permission, as it involves your insurance score.
We are happy to requote or "shop" your insurance for the most competitive pricing, so you don't have to! We work with over 20 top-rated carriers that can provide valuable coverage options.
One more thing: You can rest easy knowing we have your back – but it all starts with you.
Don't hesitate to reach out to any one of us at Town & Country Insurance if you have questions, need assistance, or just want clarification!
---
Wheel Spin Continues for 2019!
Check out our latest "wheel spins" for 2019, to see which local organizations won our donations.  We've given back over $3,000 to our communities in the first half of the year!
<<Watch here!
Congrats to our first quarter winners:
Follow their links to find out more about how you can help support their causes in the community!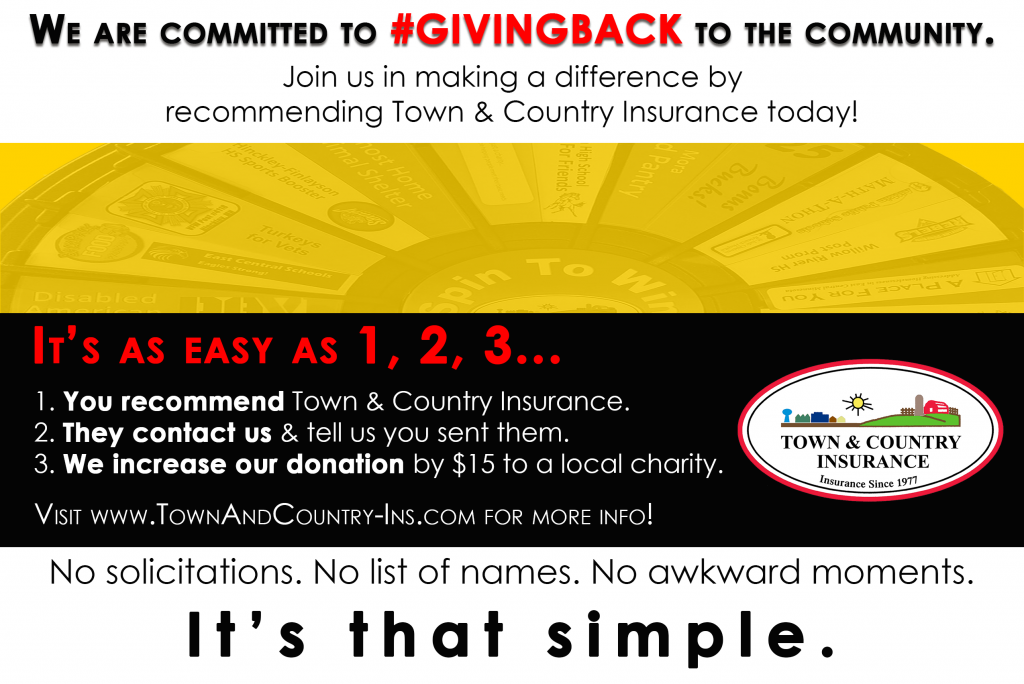 ---
Community Connections
The Willow River PTO won IMT Insurance's Community Contest, and is being awarded $250!
We sponsored the Little Miss Finlayson 1st Runner Up for the 4th of July. Congrats, Maddie!
Look for T&C goodies at the Hinckley Corn & Clover Classic Car Show!
Stop by Willey's Marine in McGregor and enter to win a $500 Gift Certificate with a boat insurance quote!
Look for our logo at Pathfinder Village's Game Night on July 27, with slap-can coozies!
More events to come in August, including the Pine County Fair Sunday Funday, National Night Out, and more!
---
Contributions from the Town & Country Insurance Newsletter Committee:  Nancy, Jeni, Christy & Liz