What Makes Rates So High?
You've heard the stories… insurance costs more for males than females; you pay higher rates the younger you are; single people pay more than married couples… And the majority of this is true! This guide will help you understand what factors are considered, and provide tips you can use to reduce your auto insurance rates!
---
Insurance carriers typically charge more for young males than young females. In the eyes of an insurer (company), males are riskier and more likely to make larger claims. Studies have also shown that men drive more (about 60 percent), and men tend to drive more aggressively… therefore being more costly to insure.
In general, rates decrease as drivers grow older and gain more years of experience on the road. While those under age 25 are statistically more likely to get into an accident, each company handles the age impact on premiums differently. Some carriers offer a pricing break at 21, 23, or 30. Then, between ages 30 to 60, rates actually decline. But after age 60, car insurance tends to rise again.
Single people also pay more for car insurance than married people do, because the insurance companies consider single people to be a higher risk. They are also more likely to file a claim, and tend to pay an average of 10% more in premiums.
What can you do to reduce your insurance premiums?
Aside from gender, age & marital status – there are many more manageable ways you can reduce your rates.
Shop around, and get at least three quotes. (We do this for you automatically at Town & Country Insurance!)
Pick a financially stable company so you don't see a lot of increases, then decreases, then increases, etc. You'll want to have a steady rate that you can count on. (Again, we do this by placing you with trusted carriers who offer the best value for your needs)
Prior to buying a car, get a quote! Rates are based on the car's value, cost to replace/repair, overall safety record, and likelihood of theft.
Adjust your deductible. The higher the the deductible, the lower your premium, and vice versa. Just be sure to have enough money set aside to pay your deductible in the event of a claim.
Consider reducing coverage on older vehicles. As vehicles depreciate in value, it may not be cost-effective to keep both comprehension and collision coverages.
Put all your insurance in one place. Companies give you a discount if you package your auto with a home or renters policy, and more.
Maintain a good credit record. Credit is reviewed by the carriers when pricing auto policies. Do this by paying bills on time, don't borrow more than you need, and keep balances low.
Take advantage of available discounts!
 Your agent should be doing this for you, and notifying you of the available discounts. We do this at Town & Country Insurance for our customers automatically!
Comparison shop and inquire about discounts for the following:
Anti-theft Devices
Auto and Homeowners Coverage with the Same Company
College Students away from Home
Defensive Driving Courses
Drivers Ed Courses
Good Credit Record
Higher deductibles
Low Annual Mileage
Long-Time Customer
More than 1 car
No Accidents in 3 Years
No Moving Violations in 3 Years
Student Drivers with Good Grades
So, what are the best vehicles for lower rates?
Cars that rank high in safety tests, such as minivans and family sedans are a great option. These cars get into fewer crashes than the expensive, high-horsepower cars that appeal to the riskier driver types. While the hip factor may not be high on a minivan, they sure help reduce insurance expenses!
Example vehicles to consider:
Buick LaSabre
Chevrolet Equinox
Chevrolet Impala
Chevrolet Lumina
Chevrolet Malibu
Ford Taurus
Ford Fusion
Honda Accord
Nissan Altima
Oldsmobile Cutlass
Toyota Camry
Example vehicles to avoid: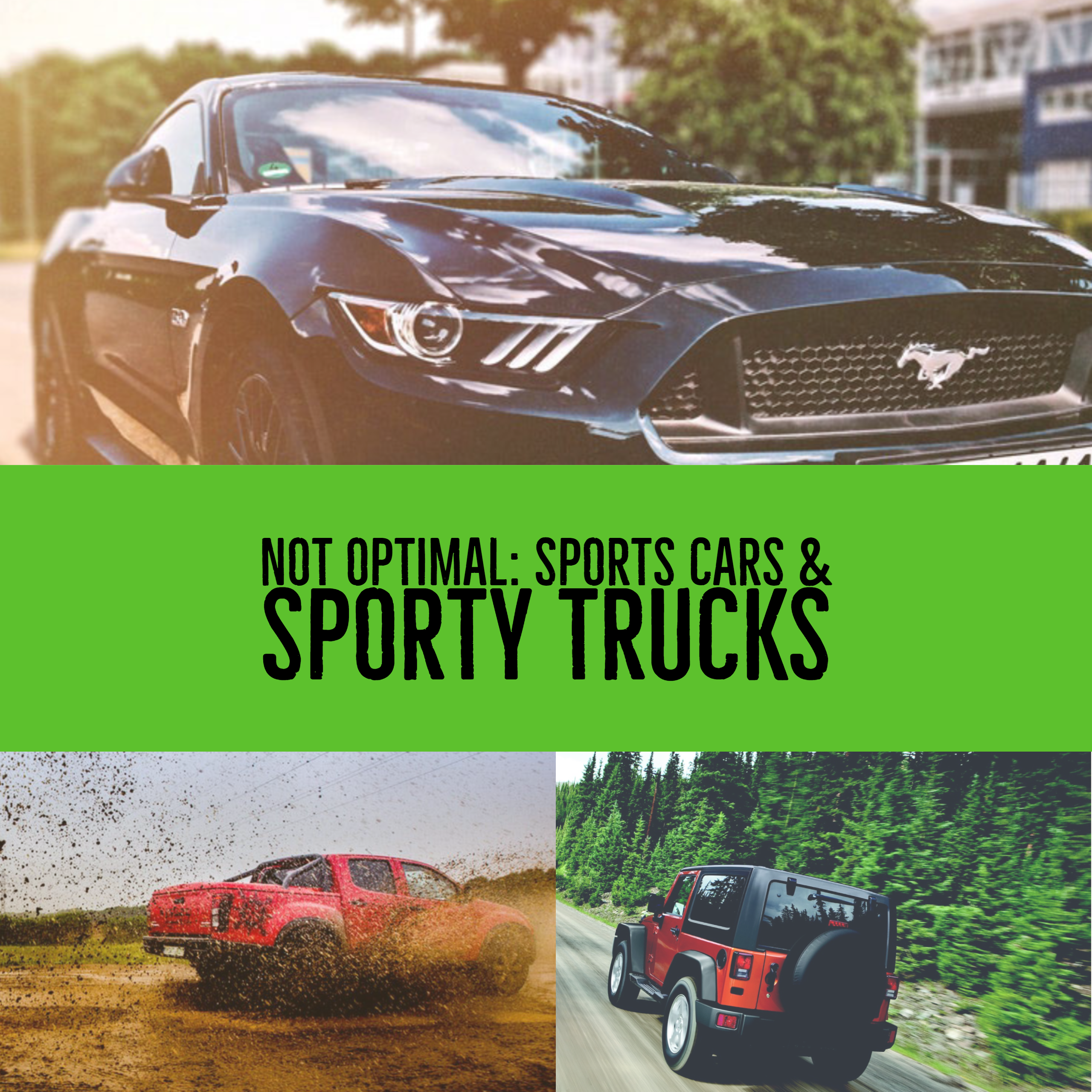 BMW
Chevrolet Aveo
Chevrolet Camaro
Chevrolet Corvette
Dodge Charger
Dodge Ram 4×4
Dodge Viper
Ford Mustang
Hummer
Jeep Wrangler
Mitsubishi Eclipse
Nissan 300ZX
Porsche
Saturn
Subaru WRX
While there may be some factors out of your control (gender, age, etc.) – there are still MANY factors within your control that can help you get the best rates for your insurance protection.  Work with any of our agents to help answer your questions, we are glad to help!
Written By: Julene Sperling, CISR – Personal Lines Agent at the Mora Office