Town & Country Connection
Well, that was a quick Fall season! It lasted what, two weeks? As we approach the busyness of the holidays, we want to share a few seasonal topics and tips to help you navigate the next month. This edition is packed with helpful tips, Team T&C blessings, food pantry donation opportunities, and a delicious recipe, guaranteed to please!
---
Natural At-Home Remedies
'Tis the season for colds & crud.. not to mention the dry air, short days, and stress of the holidays. Whether you are open to natural remedies or think they are a bunch of hocus pocus, check out this article written by Jeni, of our Life & Health Department. Share your own tried & true remedies on our Facebook page, using the hashtag #TCRemedy & we'll share them!

---
We are thankful for…
Town & Country Insurance has been blessed with loyal customers with whom we have had the privilege to serve throughout the last 40+ years. Whether it's sharing recipes, dropping off garden harvests, or watching a child grow up and start their own family, we cherish those moments. Our team made a quick video highlighting a few other things we are thankful for, enjoy!
---

Happy Anniversary!
We'd like to wish a Happy Work Anniversary to Vicki Marks! Vicki has been with Town & Country Insurance since 2015. She supports the local businesses with all their insurance needs, and works out of our Hinckley office. Congrats on your work anniversary, Vicki!
Welcome Holly!
Holly Alleman joins us as an agent in the Life & Health Department, at the Hinckley office. Holly's experience as a Pharmacy Technician has helped her gain an understanding of the complexities and challenges that come with various insurance plans. She is excited to use this experience and knowledge and apply it to her position, providing a rounded experience for each customer. Welcome Holly!
Congratulations Jenell, Julene & Nate!
Continuous education is required to stay ahead of various industry standards, statutes, and regulations. We pride ourselves on encouraging our agents to continuously further their education & want to congratulate Julene Sperling, Jenell Carlson & Nate Jackson on earning their CISR Designation(Certified Insurance Service Representative). What does a CISR mean for you? FIND OUT HERE!
---
Pulling A Trailer – Is It Covered?
Whether you are hauling a work trailer, snowmobiles, your ice house or a camper – it's important to be aware of what is covered… and what is not. Nate Jackson, a T&C Agent from McGregor breaks it down for you here, and provides a few quick questions to ask yourself before your next haul.
Reminder: Annual Enrollment (Medicare) and Open Enrollment (Health Insurance) for 2020!
The Medicare Annual Enrollment Period ends December 7th, 2019 and the individual health insurance Open Enrollment Period (OEP) ends December 15th. Give our Life & Health team a call at: 320-384-7423 or 866-900-6684, or email jessica@townandcountry-ins.com.
---
A new winner was selected on our 7th Wheel Spin!
Christy & Jenell, both from our Mora office, did the wheel spin for $530! It sounds like a couple of our employees were *a little excited* when the winner was chosen! In addition, the Mora office also matched this wheel spin for the Cooper Banker's Benefit, in Mora.
Congrats to these organizations! Follow their links to find out more about how you can help support their causes in the community!
---
Community Connections
This November, our team has been having an intra-office challenge to raise funds and food for our local Food Shelves.  Each office chose the Food Shelf they wanted to support, and are highlighted below.  We want to stress that what we do is small in comparison to the needs of our communities. For ways that you can get involved, donate and help, read below.
Food For Friends:
This program was created and is operated by Mora School students. Intended to help those children whose families find it difficult to have enough food for the entire month, all children are eligible for this program. On weekends (and holidays), each child is provided with a weekend supply of nutritious food containing breakfast, lunch, snack and canned goods. The hope is that these resources support the health, behavior and achievement of every student that participates. Donations can be made with the Mora ALC at 320-679-5290. For more information, on items needed or applying for a donation, visit the link below.
Family Pathways Community Food Shelves:
With nine locations in Minnesota & Wisconsin, our donations will benefit both the Pine City and Sandstone locations. Family Pathways provides access to healthy food choices and other resources, giving hope and support to families & individuals. Together, they have 9 food shelf locations, a mobile food truck, provide community & holiday meals, as well as a summer lunch program and backpack program for students. Families & individuals may shop once a month and weekly visits are encouraged to pick up fresh fruits, vegetables, bread & dairy. Donations can be made at any location directly, during hours of operation. Call 320-245-2485 for Sandstone or 320-629-0128 for Pine City. For more information on items needed, visit the link below. To get help and set up an initial appointment, visit here.
Pine City & Sandstone – Family Pathways
---
Recipe of the Month
Here's a great recipe to bring to Thanksgiving dinner, which might even please the pickiest of food critics!
"My dad and I love sweet potatoes, but we stopped having them at family Thanksgivings – since we were the only ones who ate them. About two Thanksgivings ago, I found this recipe on Pinterest & decided to try it. These bars went faster than the pumpkin pie!" ~Christy Sundet, Agent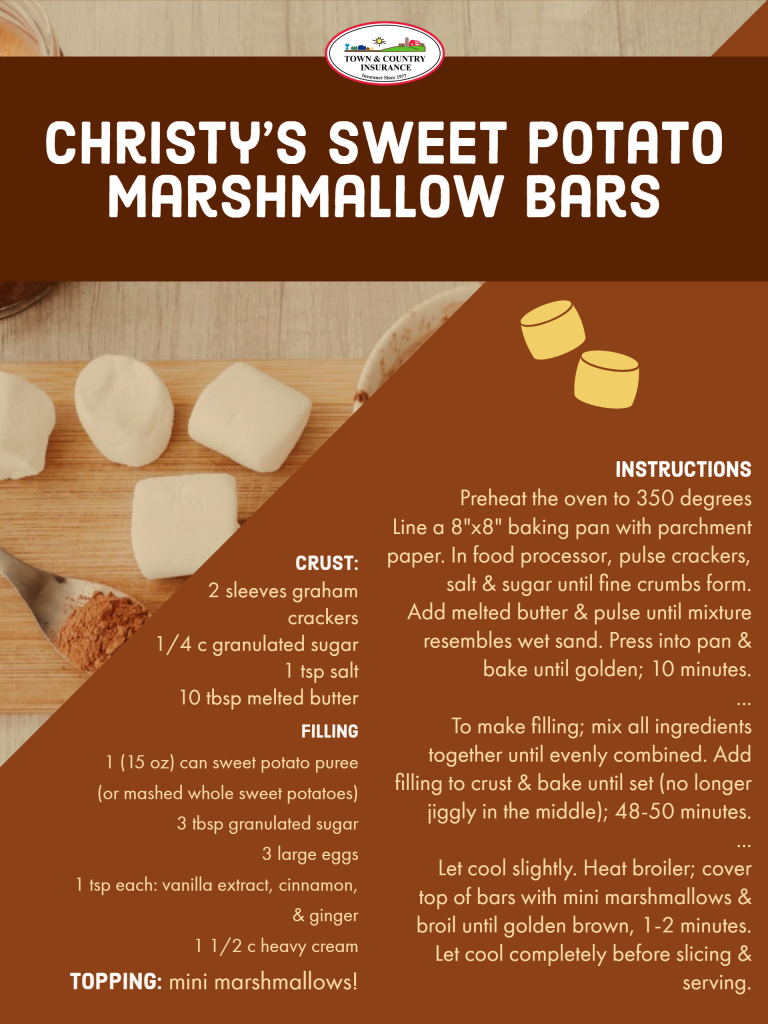 Contributions from the Town & Country Insurance Newsletter Committee:  Nancy, Jeni, Christy & Liz
---
Know someone who would like to see our newsletter? They can subscribe above (top-right side of page)!