Town & Country Connection
Happy fall, y'all! It's finally starting to feel like Fall in Minnesota, with the colorful leaves and crisp morning air! In this edition of the Town & Country Connection, we aim to bring valuable info, insurance tips & fun to your day! Thanks for reading our newsletter, stay warm, and enjoy!
---
Cyber what?
While it may remind you of the creepy human-robots in movies, Cyber Security is a very real thing. "Cyber" threats are becoming more common, not only in the business scene, but also at home. Some risks can include extortion (ransomware,) cyber bullying, identity theft, data breach, reputation damage & more!
While we don't want to scare the pants off you, we do aim to keep you informed about how these attacks can happen – and help you reduce those risks.
---
Russian Tea Mix
A great fall recipe to make with the family, give as DIY gifts, and warm the tummy!
1 c. instant tea powder (unflavored)
2 c. orange-flavor drink mix (Tang)
1 (3oz) – or 6T – package powdered lemonade mix
2 c. white sugar
2 t. ground cinnamon
½ t. ground cloves
Mix all ingredients together in a large bowl or jar, and store in a tightly closed container.  Just spoon into a cup full of hot water, stir & enjoy!
"We made this recipe when I was a little girl in Brownies or Girl Scouts. It was a gift we made & took home to our families, and the smell reminds me of the fall! I cannot wait to make this with my kids this year!" ~ Liz
---

Happy Anniversary!
We'd like to wish a Happy Work Anniversary to Tina Killen! Tina has been with Town & Country Insurance for 23 years! Tina began as a CSR, serving customers at the front desk in the Finlayson office, and now works on the behind-the-scenes, supporting the operations and accounting functions of the business. Congrats on your work anniversary, Tina!
Welcome Patty and Ashley!
Patty Weiner-Allen joins us as the Policy Service Agent in Hinckley. She's one of the three main phone answer-ers and will likely greet you as you walk in the door of our Hinckley office. Patty loves spending time with her family, and is excited about joining the Town & Country Insurance team!
Ashley Gullekson is joining our team as a Personal Lines Agent in the Hinckley office. Ashley is a long-time resident and lives with her husband, Mike. She is super excited about her new career with Team T&C!
---
Annual Enrollment

(Medicare) and

Open Enrollment

(Health Insurance) for 2020! Mark your calendars!
The Medicare Annual Enrollment Period is here! Review your annual notice of change documents, and call Jessica, Jeni or Barb with questions on Medicare plans for the 2020 plan year. The Medicare Annual enrollment period (when you can make plan changes) is between October 15th and December 7th, 2019. Their calendars are filling up quickly, so don't delay and be sure to get an appointment scheduled!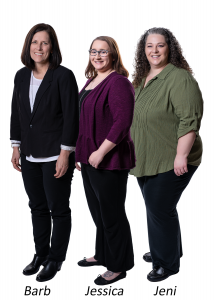 For those under 65 and not Medicare-eligible, the individual health insurance Open Enrollment Period (OEP) to make plan changes off-exchange and direct with the carrier begins November 1st and ends December 15th. If using Minnesota's state-based exchange (MNsure) the deadline is December 23rd. Please review your renewal documents from the insurance company, and MNsure if applicable. Please report any income adjustments or household changes for the coming year to MNsure directly, by calling the consumer line at 1-855-366-7873.
We are hopeful that we can begin quoting and comparing plan premiums in late October, so give us a call if you have questions or would like to set up an appointment. 320-384-7423 or 866-900-6684. You can also email jessica@townandcountry-ins.com to set up an appointment!
Jessica, Jeni & Barb – your dedicated Life & Health Insurance team!
Does Medicare overwhelm you?
Watch this 20-minute educational video on Understanding Medicare… from the comfort of your own home!
---
A new winner was selected on our 6th Wheel Spin!
Who wins the $415 donation this month? Watch to see!
Congrats to these organizations! Follow their links to find out more about how you can help support their causes in the community!
---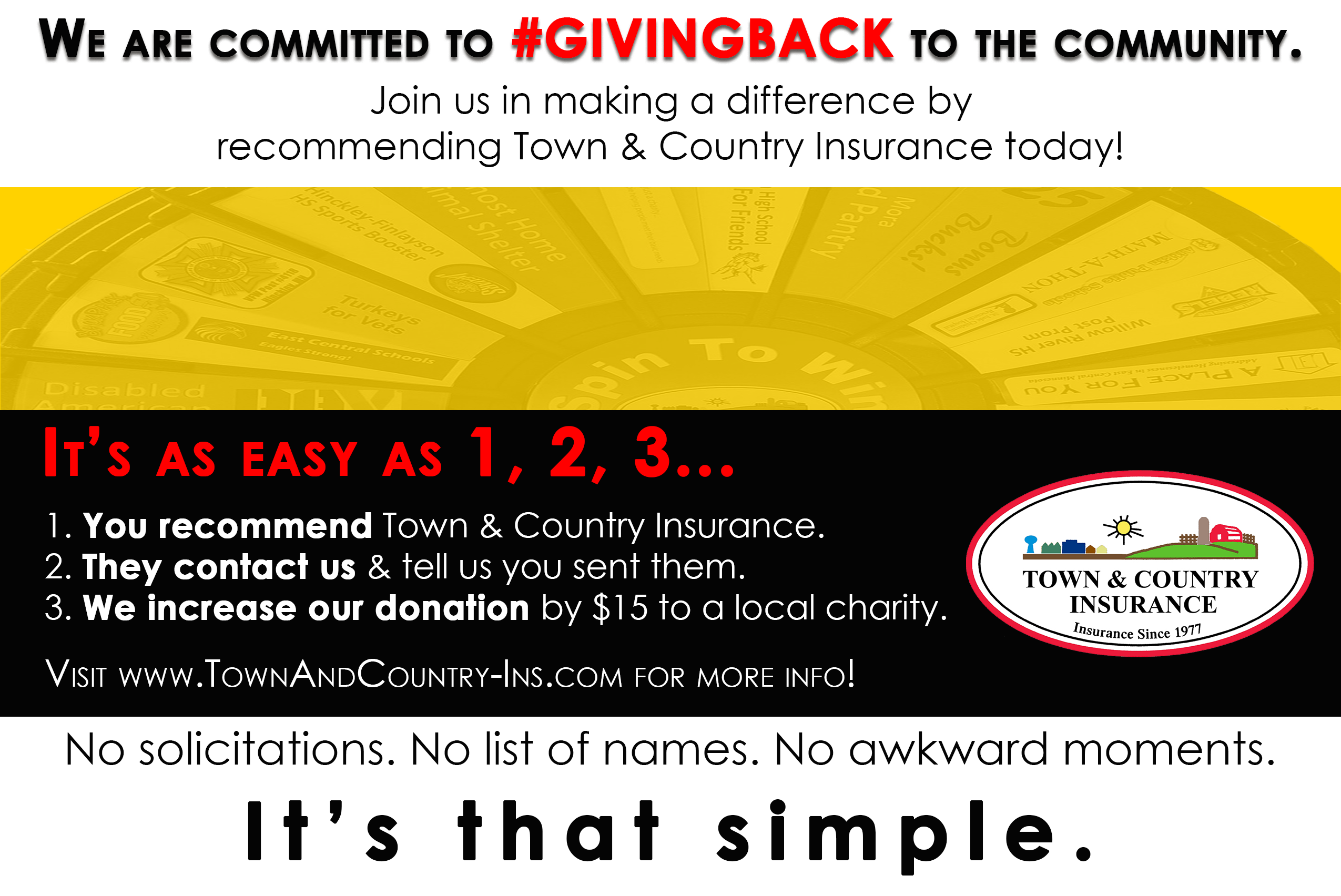 ---
Community Connections – Spooktacular Events!
East Central / Pine County:
Kanabec County:
October 26 from 2-4pm, Grand Event Center, Kids spooktacular fall open house! Trick or treating, activities & pictures!
October 26 from 7pm-midnight, Grand Event Center (adults only), open house with Halloween costumes, music/dancing, cornhole, and "halloween pong."
October 27 from 3:15-5pm, Mora Civic Center, open skate and Trunk or Treat
October 27 from 4-5pm, Brunswick Lutheran Church, Trunk or Treat
October 27 from 4:30-6:30pm, Ogilvie Schools Annual Halloween Party 0-5th Grade; bring a non-perishable food item for donation!
October 31 from 5-7pm, Braham Schools, Braham Community Halloween Party
October 1-31 – Reposed Light is holding a Halloween Costume Contest; 100% of proceeds benefit the Food4ME program at Mora Elementary!
---
Contributions from the Town & Country Insurance Newsletter Committee:  Nancy, Jeni, Christy & Liz
---
Know someone who would like to see our newsletter? They can subscribe above (top-right side of page)!