We're excited about our first issue of our new seasonal newsletter! We've been busy over here with fall flying by and we have been working hard, with some new team members, and all of us figuring out the limbo of life after COVID-19.
In this Issue:
Meet our New Faces
Copycat Pumpkin Cold Foam Recipe
Halloween Throwback
Life and Health Update
Events Near You
We Believe in Giving Back!
---

When did you start at Town & Country Insurance?
Jude: January 4th, 2021
Eric: July 12th, 2021
Sam: August 9th, 2021
Emmalee: August 16th, 2021
What is your favorite fall activity? (This can be something you do with family, a tradition, or by yourself!)  
Jude: Enjoying the crispness of the air, walking in the woods and admiring the colors, or getting out in the boat to catch the last bass of the season!
Eric: I love carving pumpkins, doing corn mazes, and going to apple orchards. 
Sam: Carving pumpkins.
Emmalee: I love going to the 'pick your own pumpkin' farms, and going to haunted mazes around the area, the Dead End Hayride has to be my favorite!
 What is your go-to Halloween/scary movie? (If you don't like scary movies, what is your favorite movie?)
Jude: Scary movies and I don't get along. I don't have a favorite but enjoy a variety of genres.
Eric: One of my go to favorite movies for this time of year is Beetlejuice – better not say his name 3 times!
Sam: A Quiet Place
Emmalee: My favorite Halloween movie has to be Hocus Pocus.
 What is your favorite thing about Town & Country?
Jude, Eric, Sam & Emmalee: The people! Everyone wants everyone to be successful and is always more than willing to lend a hand. The atmosphere is always so inviting and it is like a family here.
 What is one thing you learned from working at Town & Country so far?
Jude: You never know everything.  Insurance is complicated and the needs of our clients are always changing! Don't be afraid to ask questions because that's how we learn what coverage they need!
Eric: Insurance – I came from the trades background and worked in the mechanical field for the last 8 years. Insurance is not cookie cutter like the commercials want you to think. It is actually like a chess game and the question is do you have enough pieces to protect your king(you). 
Sam: How to manage my time effectively and efficiently.
Emmalee: I have been learning, or trying to learn everything I can about insurance- marketing insurance has really pushed me to learn anything and everything that I can!
---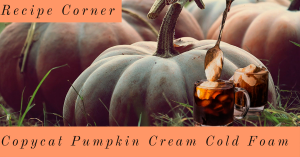 Fall is here which means one thing- pumpkins!! Along with the crisp air, comes a fan favorite time of year when coffee shops compete to see who has the best pumpkin/coffee creation. Among them of course is a well known Seattle coffee brand who introduced us to pumpkin cold foam. But who wants to pay $6 for a cup of coffee everyday? So why not be your own barista at home! (
https://midwestniceblog.com/pumpkin-cream-cold-foam-cold-brew-recipe/
)
For the Pumpkin Cream:
1 cup heavy whipping cream
½ cup sweetened condensed milk
2 teaspoon vanilla extract
3 tablespoon pumpkin puree
2 teaspoon pumpkin pie spice
Instructions
Whisk together the whipping cream, sweetened condensed milk, and vanilla. Whisk in the pumpkin puree and pumpkin pie spice until smooth. Cover and place in refrigerator until ready to use.
Top the iced coffee with the pumpkin cream cold foam and sprinkle with additional pumpkin pie spice, if desired.
And of course enjoy (preferably in a colorful fall setting)!
---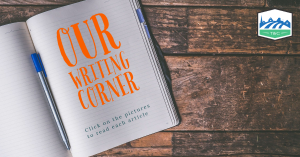 ---
Winter is right around the corner and make sure that your summer getaway is ready for the cold is at the top of your list.
Hint: This is your guide on how to start transitioning to the coziness of winter getaways.
---
Your chimney and woodstove are going to be put to work in the next couple of months, so make sure they are ready to keep you warm and not cause an accident.
---
Make sure that you have the right protection for your business when it comes to liquor, it could save you from a potential lawsuit.
---
Life and Health Update
Hint: Click the picture below to go to our site!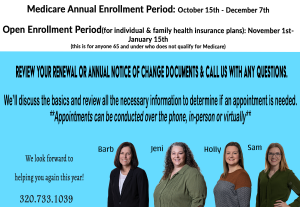 ---
Halloween is a fun time at T & C!!
We all have got in the "spirit" and hope you enjoy these throwback pictures of the agents and their families as much as we did! Happy Halloween and Stay Safe!
---
---
Events Happening Near You:
 If you are looking for something to do on date night, or have some family fun, there are a lot of local options in October and November!
Mora-
Through October – Ringler's Haunted Hill every Friday and Saturday from 7pm-10pm
Oct 22 @ 6 pm – Autumn Pumpkin @ Sapsuckers
October 23 @ 2 pm – Trick r' Truck @ Recovering Hope
October 29 @ 6 pm – MNSH 1st Annual Trunk or Treat @ Mora Library Park
October 30 @ 8:30 pm – Crystal Halloween party
October 30 @ 2 pm- join for trick or treating on the trail @ Ringler's Haunted Hill
October 31 @ 4:30 – Trunk or Treat – Emmanuel Baptist  Church
Oct 31 @ 8 am – Chains Edge Massacre – Disc golf @ 1287 220th Ave, Ogilvie
Pine City –
Oct 30 @ 10 am – Chandler's Firearms Training – MN, WI, FL @ Wing's North
October 31st @ 5-8 pm- Kid's Halloween Night at the Arcade at the Floppy Crappie Lakeside Pub in Pokegama
Nov 6 12- 3 pm – Succ it up Buttercup – Plant bar @ Three Twenty Brew Company
Hinckley –
October 23rd @ 7pm- Random & Ridiculous Night of Comedy at Grand Cinema Hinckley (this is an 18+ event)
October 30 @ 2 pm – Pine City Flames snowmobile club Trunk or Treat at the Flames
October 30th @ 8:15pm- Adult Trick or Treat Party at the Bear Creek Tavern
October 31st @ 3-5pm Hinckley Lions Trunk or Treat
November 6 @ 9 am – Widow's Weekend Craft Fair
Sandstone-
October 23rd @ 3-6 pm- Creatures of the Night Hike at Osprey Wilds Environmental Learning Center
Finlayson-
October 15, 22, 28, 29 @ 7:30-11PM, Kids activities 6 – 7 pm at The Devil's Getaway, a haunted trail.
October 31st @ 5-6pm- Trick or Treat through the Trail at The Devil's Getaway
Moose Lake-
October 19th @ 5pm- A Community Wide Blue Ribbon Ceremony- Riverside Arena in Moose Lake
October 23rd @ 6pm- Mystery Dinner Theatre 'Who stole the painting?' at the Soo Line Event Center in Moose Lake
October 29-31st @6pm Spook House at Moose Lake Park
October 31st @ 3:30pm- Trunk-R-Treat at Moose Lake Park
Sturgeon Lake-
October 30th @ 7pm Halloween Costume Party & Scare-e-okee at Denham Run Bar & Grill
Rush City-
November 5-7 Rush City's Bountiful Boutiques 2021 @ Chucker's Bowl & Lounge
Rutledge-
Oct 16 @ 9 am – Fall Craft Fair  Rutledge Community Center
---
We believe in giving back!
 Each month we hold a vote on Facebook between three non-profit organizations that our agents have nominated. We have given away over $3,000 so far this year to charities in the community! Keep an eye on our 
Facebook 
page for the next vote!
Our Winners so far this year: