As we leave our homes and head out to the lake (and cabin) the last thing we want to think about is insurance. We often times spend more time making plans – like stopping for ice to keep our food & beverages cold –  than we ever do considering if we are properly insured. It's just not top of mind.
Accidents Can Happen. (We call those risks.)
There are a lot of hidden risks waiting for you at your cabin oasis. What kind of cabin do you have? What kind of updates and or improvements have you made since you first insured this cabin? Do you have proper liability coverage for not only you and your family but when guests and family members stop by or stay? Do you have ATVs, UTVs, boats, water trampolines, paddleboards, kayaks or canoes, jet skis, docks, and boat lifts?
All of these can be a lot of fun…and provide hours of entertainment! But, they can also be expensive to replace and, unfortunately, accidents can happen. I could give you hundreds of examples, but here's one common scenario of "risk" that isn't always considered: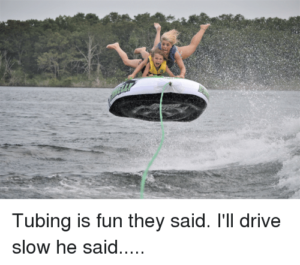 Fun Done.
You have an older boat that isn't currently insured. Your family goes to the lake, and the kids and their friends want you to pull them on the tube. (This is where dad promises to go slow… we all know how that goes, you've seen the memes!)
So dad starts pulling the kids. This year, the lake level is higher than normal, but he remembers that shallow spot with the rocks and does his best to avoid it. Turns out that rock moved! (Riiiiight.) Dad bumps the rock and it takes out the lower unit. Fun done. Without a boat policy, that could be an expensive repair/replacement.
To make matters worse – let's pretend the kids hit the "mysteriously moving rock" too… do you have coverage if the children (your kids' friends) get injured? Fun done.
Relax, That's What Insurance Is For
We don't often think of the dangers at the lake and cabin, we just look forward to the fun. But just a quick phone call to your agent will help ensure you can really relax & have fun, knowing you're protected. We'll be able to verify if you have coverage under an existing boat or home policy, or suggest something different that'll fit your needs. That's what insurance is for.
If you're still not too worried, check out this article recapping the most common Cabin Related Injuries in 2019.
Give me or one of my team members at Town & Country Insurance a call or email, and we'll get you taken care of!
CALL 320.233.6684 or 866.900.6684 OR TEXT 320.314.4739