The "Top Secret" brownie recipe we have all been raving about
Tim joined our team earlier this year, but has been part of our team "unofficially" for some time. 
As the story goes, a few years back he had made a warm, gooey, fresh batch of brownies for a new employee who was training in our Finlayson office. Since then, it's always a treat when he brings them in!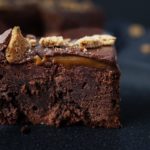 At our quarterly employee meeting, Tim & Lisa provided the meal – pork loin smoked on the Traeger, cheesy hashbrowns, garden-fresh salad (from Lisa's garden,) fresh fruit, and Tim's Brownies!  We all raved about them, trying to pry his secret recipe from him.
It was a natural selection for our "recipe of the month" in the T&C Connection newsletter! When I asked for the recipe, the reply was "which one? The regular or the caramel?" Naturally, I wanted both.
The Secret Recipe: