Thanks so much for your request!
A member of our team will be reaching out to you for any additional info needed to complete your quotes
If this quote is for new coverage (something you've never insured before) or a change to existing coverage, you're all set. We'll be in touch shortly.
If this quote is for a policy you already have in place (whether through us or another agent), could you do us a quick favor?
If you didn't already attach them, can you locate and email us your **most recent coverage documents** (a.k.a. declarations/dec pages) for the policies you asked us to quote. Normally these can be downloaded from your current insurance carriers' website/customer portal, or you could get a copy from your current agent/company in PDF format.
We ask for these so we know exactly what coverages you currently have. This allows us to do a proper coverage review, as well as make sure we are giving you a true apples-to-apples comparison.
****Of course, our job is not to copy your current coverages, but ensure you have adequate coverage limits at the best possible price. Your current coverage info will give us a huge jump start in the process.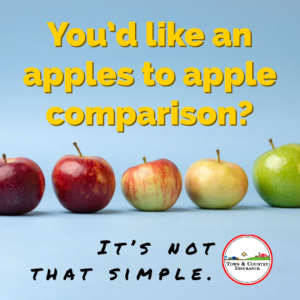 Thanks so much for the opportunity! We are excited to work with you!
Town & Country Insurance (Team T&C)