In rural Minnesota, catalytic converter thefts are spiking… but this is nothing new. It's happening across the state, and even the country. To get an understanding of why it's happening, and how to prevent it, we talked with Josh Vork, owner of Vork's Auto Repair in Sandstone.
What's so great about the catalytic converter?
Essentially, it's full of precious metals, and those metals are valuable. It's fairly easy to cut off a catalytic converter, appealing to thieves as a quick & easy $200-300.
How can you prevent a catalytic converter theft?
Josh suggests to "park in a garage or a well-lit area." Even areas like public water access points and busy parking lots are being hit. Another option is to invest in alarms and/or camera systems.
This is where it takes a village! If you see something out of the ordinary, report it. Don't assume the person under the vehicle is a mechanic working on their own car in the parking lot, chances are… it's not! Most parking-lot fixes will happen under the hood – oil, battery, washer fluid, etc.
Another preventative option is to have a metal plate or catalytic converter lock installed. A quick google search can help you find one that fits your vehicle model, but they aren't cheap and can range from $150-$500. However, they ARE cheaper than replacing a stolen CC, and fixing the damage caused by the thieves.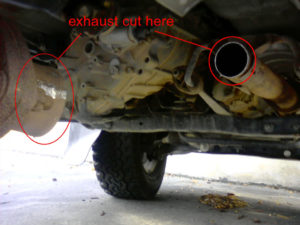 How do I tell if my catalytic converter was stolen?
Your "vehicle will be very loud, your check engine light will probably be on, and your vehicle performance will be very poor."
Does it damage the car?
Absolutely. Having your catalytic converter stolen is not like a muffler falling off… "it's much more expensive and can do much more damage if the vehicle is operated without it." Often times, the CCs are sawed through, and it's possible that fuel lines or wiring can also be damaged.
What kind of repair costs am I looking at?
Well, that depends on the type of vehicle, and if they can get an aftermarket part or not. At minimum, you're looking at $1,000. This may or may not be covered by insurance, depending on your policy and deductible. A quick call, text or email to your agent can confirm.
What steps do I take if my catalytic converter is stolen?
Try to minimize driving the vehicle. Notify the police.
Call your local mechanic. Vork's Auto Repair can be reached at 320-372-1919. They will need to find the part first, then get it installed, which could take 1-2 weeks or more.
Call your insurance agent. Inquire about your auto-insurance policy coverage and deductible. This will help you determine if you will need to plan on paying out-of-pocket or if you will just need to come up with your insurance deductible.
Our advice as your local insurance agent – be alert. Do what you can to prevent theft, and in the event of a theft, take the steps necessary to minimize damage. As a community, we need to work together to remove the opportunity for theft. Diligent neighbors and precautionary measures to prevent theft are your best bet.
For more information on Vork's Auto Repair, visit their Facebook page HERE. To submit a claim, click HERE.